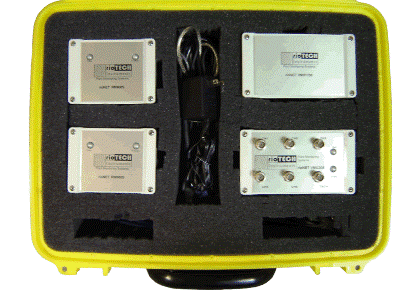 VMU208R-900-SYS Contains the Following
VMU208R-900 -
Vibration Monitoring Unit with 8 BNC inputs package with a 900MHz remote radio in one enclosure
NCA-S900 -
Riotech's Network Communications Adaptor with a 900MHz Server Radio. Converts Riotech's network protocol to Ethernet allowing worldwide access of data.
Rioserver Software -
Riotech's powerful online monitoring software. Licensed for 2 VMU's or up to 32 points
Antennas, Cables and Power Supplies -
Everything necessary to connect and run a continuous online system
Yellow Storage Case -
Water resistant case perfect for storing everything you need including sensors in one location.
Sensors, Sensor Cables, and Sensor Magnets sold separately.